The Case for Somaliland Recognition By Mahamoud Adan Jama
Somaliland Youth: Between the Maqas and Magafe
Many would shrug and say the Arab is criticizing the blessed land again. They will defend their foolishness by arguing that Somaliland is a poor and young country that has a long way to go before it reaches maturity. They will make excuses for the police, the government and the wadaad mafia. They'll boast of the recent democratic elections.
But what's the point of democracy if it's not applied. What's democratic about being humiliated in the street by your own police? Where are all those women (and they're mostly women) who arranged the casho sharafs, organised parties and collected hundreds of thousands for the ruling party only to see their sons, brothers or cousins forcibly having their hair cut in the street?
The minister of religious affairs supports and encourages such things. This is a man who is supposedly knowledgeable about the history of his faith. Does he then not know that most descriptions of the companions of the prophet portray them as men with long flowing hair? In fact, I challenge him to go back over the history and mention five with short hair (natural baldness not withstanding). He mentions a hadeeth about following a lizard into its hole, as an analogy of Muslims copying non Muslims when he's already comfortably ensconced in the hole. Why give TV interviews, sit in an office and face cameras when you could have easily kept your "dhaqan" by doing all of this under a tree? Why accept that the Georgian calendar was forced on you for practical reasons but not extend the benefit of the doubt to the young kids and accept that, in same cases, the long hair is forced on them due to poverty. The man is FAT and well fed. He's well paid and I doubt he actually does any work. This leaves him with the only thing left to his type of mafia Salafis, grandstanding and pointless virtue.
It's not as if the country is not suffering from poverty and droughts. It's not as if the young are not jobless and hopeless. It's not as if thousands of them (men, and that most precious of creatures to the heart of a Mullah, women) have not taken their lives in their hands and thrown it in the sea. It's not as if their parents and relatives in the diaspora have not been complaining about it. It's not as if the vast majority of the population are made of young people. What exactly does this crazy wadaad and his ilk want? What do they think the consequences of their actions will be?
Fadhomooy, you sold your gold in support of Kulmiye. To what end? Caashaay, you set up a WhatsApp group to help Wadani. To what purpose? Suubanaay what does your UCID FB group discuss? What did your efforts give you? Mujaahid Maqas is what you got. Picking on kids and humiliating them in the streets. Talking about a great future for Somaliland when it's that future that's getting assaulted and having its rights abused.
It's all good and well to arrest people but you then have to put them in front of a judge who must rule on their guilt. This attack by Mujaahid Maqas and his Mullah Mafia must by condemned in the strongest terms.
Written by: Ahmed H. M – London, UK
Horn of Africa: There Are No Quick Fixes in 'Countering Violent Extremism'
Since 9/11, western countries have increasingly invested in programmes to prevent transnational violent extremism. These include serious militarised measures but also "softer" civic interventions under the banner of 'countering violent extremism' (CVE). An example is funding social development programmes, implemented by civil society, with the aim of engaging and deterring individuals and communities from "radicalisation".
An effective response to militant Islamist violence, threats, and underlying ideologies, is extremely important. But in the Horn of Africa, CVE programmes have failed to adequately engage with root causes of religious extremism.
In some cases they have failed so miserably that we must ask: to what extent are they actually genuine efforts to address violence and militancy? Are they merely superficial gestures? And how did such a complex issue become the additional burden of NGOs already struggling with layers of political and legal restrictions and limited capacity?
"The flame only burns those who touch it" is a Sudanese saying that resonates today. Religious militancy is not a new phenomenon in the Horn of Africa. People have lived through this fire for the past 30 years. In Somalia, thousands have been killed as a result of the brutal Al Shabaab insurgency which has lured Muslim youth towards militancy by exploiting community vulnerabilities including poverty.
In this region, religious militancy often disguises itself as an ideology for resistance against state corruption, ethnic and cultural biases. Meanwhile, counter-terror programmes often ally themselves with the same corrupt regimes. The west considers Sudan, for instance, a collaborative partner – though it is itself an incubator of religious militancy as a result of repressive policies and laws.
Indeed, CVE programming has fallen far short of the mark – conceptually and in implementation. Even the language used is deeply problematic. Measures to prevent violent extremism is vague and ambiguous.
CVE programmes are clearly supposed to be 'soft power' projects in parallel to military counter-terror interventions. But: what exactly do they mean by "violent extremism"? Is extremism acceptable if it is not violent? At what measureable point does an ideology become 'extreme'? What countermeasures are acceptable?
And: Are these projects specifically focused on Islamic religious militancy, or violence based on other religions and ideologies as well?
These programmes have also been overly simplistic, largely ignoring driving factors of militancy and violence including injustices inflicted upon the region's population. The – largely flawed – operating assumption is that providing grants to NGOs to undertake development-style programming will lead to a shift in communities' social identities, or erase those inequalities and injustices.
Last year, the International Organisation for Migration launched a call for proposals on CVE stating that it intended to provide "small and quick impact support that capitalises on community driven interventions aimed at mitigating risk factors that contribute towards violent extremism. These will be preceded by interactive and participatory community consultations."
But how can we think that transforming and influencing social and cultural identity can be accomplished through "small and quick impact support"?
Since the First World War, British and French colonial governments, and later the US government, helped cement political Islam and its organisations as buffers against Soviet Union's expansion and to counter socialism's influences in their quest for absolute control over Middle Eastern oil and gas.
Today states such as Saudi Arabia and Iran stress that Islam has only specific veiled versions, of which they are the vanguards. Supposedly, Muslims all over the world must be either Shia like in Iran or Sunni Salafi like in Saudi Arabia.
But, like other religions Islam is very diverse. Peoples' experiences with it vary based on their specific historical and cultural contexts and perceptions. The Islamic faith also has a rich heritage of reform and transformative discourse, which can be used to facilitate persuasive transition in communities using their own religious guidance.
The Horn of Africa – which includes Sudan, Kenya, Uganda, Somalia, Ethiopia and Djibouti – is close to the Arab Gulf region and thus it has been largely influenced by Salafi religious militancy ideology.
Here, the challenging religious context is further compounded by the complexity of social identity. Universal citizenship is not affirmed or applied by all states, to the disadvantage of minorities. Often, ethnic and religious affiliations also shape identity – as well as access to resources and services.
I recently heard the story of a donor-funded CVE project in the coastal areas of Kenya, which shows what's at stake when NGOs, following donor agenda, forget that social and cultural change requires great effort, knowledge, and community ownership.
This project had proposed removing all references to jihad in the Qur'an in Islamic religion classes for "Madrassa" children – provoking anger and revolt from the local community over the presumption that it could intervene in matters of religious identity like this, amending and censoring materials.
Years of experience challenging religious militancy and its impact on women has taught me that pursuing any form of social transformation requires focusing on, and investing in, civil movements from within. It is the role of people living in regions where militant Islam is rife to lead and decide on the best approach to countering it.
Trying to address injustices suffered under militant Islamists requires meticulous and tireless work – but it is one of the most effective approaches.
Women's movements have also been negotiating and challenging discrimination within different sects of Islamic traditions, text and jurisprudence. Academic Amina Wadud has contributed to a feminist reading of Quranic text based on equality and justice which counter to traditional and militant readings. Addressing religious militancy's impacts and drivers is also a core priority of the SIHA Horn of Africa women's network.
This approach must be adopted by political parties too and be connected to wider struggles for democracy, freedom of belief, equality and justice. Unfortunately, most CVE programmes and other counter terrorism strategies can only be characterised as pursuing 'quick-fixes' and short-sighted and short-term gains.
Communities in the Horn of Africa must look inside rather than outside for solutions. Within civil society, we must tackle prohibitions and fear of debate and critical engagement with Islam. Internationally, we need a new agenda, centred on liberation, to support movements relevant to the communities most affected by violent extremism.
Somaliland after the elections: old traps, new challenges
Somaliland after the elections: old traps, new challenges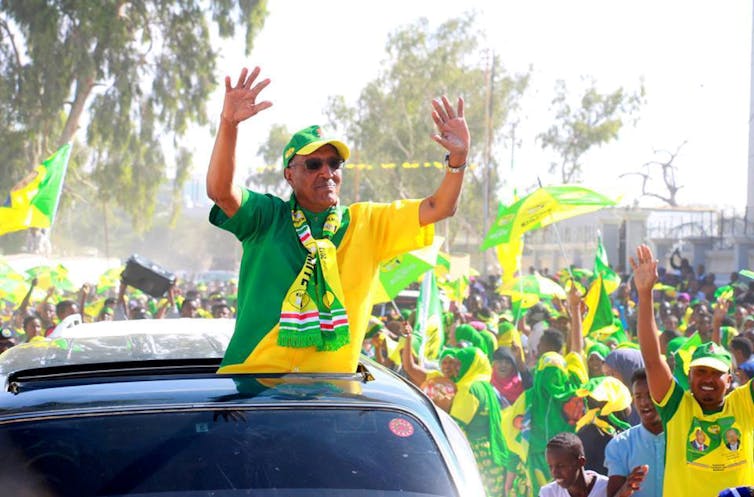 Claire Elder, University of Oxford
The Republic of Somaliland is recognised as an autonomous region in Somalia's northwestern region. Since it broke away from Somalia in 1991, it has held five successful elections.
Such an electoral record, despite extensions and delays in almost every case, is enviable by regional standards. And as a result, Somaliland has garnered significant donor support.
The November 13 polls followed the same script. Although they were twice delayed, only minor irregularities were reported by the international observer mission. These included vote buying and lack of secrecy during voting.
Unlike previous elections, however, the 2017 presidential contest marked the highest stakes yet, that revealed deep cracks in the country's revered consensus politics.
Election day itself proceeded peacefully. 78.85% of the 704,089 registered voters who had collected their cards participated in the election. And for the first time elections were held in parts of Sool and Togdheer. These are the insecure border regions that are disputed between Somaliland and Puntland (now a member state of the Federal Government of Somalia).
Yet, the process was marred by incendiary party rhetoric and violent protests before and after the elections. The protests were largely youth-led, with a number of casualties reported.
Both parties seemed unable to contain their supporters, or instil popular confidence in the process. Voters were deeply divided along clan and party lines.
The electoral commission's four-day social media ban and delay in releasing provisional results (nearly a week after the polls) provided ample room for rumour mongering and confusion.
By election night both the main opposition party – Waddani – and the ruling Kulmiye party were celebrating a win. False results circulated on Whatsapp the next day suggesting a win for Kulmiye. Waddani reacted quickly by challenging the impartiality of the process.
Seemingly emboldened by the Kenya example, the opposition party claimed that Kulmiye had circulated fake ballot papers. It threatened to suspend cooperation with the election commission. No formal complaint was filed at the Supreme Court but Waddani had succeeded in bringing opposition supporters to the streets in unprecedented numbers.
The final announcement of results on November 21 confirmed that Kulmiye's Muse Bihi Abdi had won by a margin of nearly 80,000 votes. Back in 2003, the incumbent Ahmed 'Silanyo' Mohamoud had conceded defeat to a much smaller margin of 83 votes. As such, it looked like Waddani's hands were tied.
Behind-the-scenes, former statesmen and other impartial stakeholders stepped in to calm the storm and convince Waddani to concede defeat quietly.
The concession speech came on November 22, a day after the announcement of results. Opposition candidate Abdirahman Cirro called for national unity, but Somaliland's fragile political fabric had already been put through the wringer.
Election tension
Heightened election tensions were made worse by the political inexperience of the two presidential candidates who both employed deeply polarising rhetoric. This was an unprecedented and risky combination for the country's conservative political system.
The personal attacks between Kulmiye's Muse Bihi Abdi and Waddani's Abdirahman Cirro hinged both campaigns on their personalities, Somaliland's civil war grievances, and clan divisions.
Muse Bihi harped on his war record, at one time saying
We won't accept a candidate who has never fired a gun, and is afraid to hold one.
This suggested that the political transition could turn violent. Widespread concerns were vocalised by locals and Somalilanders in the diaspora alike.
Fierce competition was also fuelled by large amounts of money. Both parties pushed ahead with early campaigns despite the threat of hefty fines from the election commission. Payouts to constituencies, including money for drought relief, contributed to what many estimate may be the costliest election since the local council elections in 2012.
Geo-strategic weight
Somaliland's enhanced regional standing certainly heightened the ambitions of both presidential candidates, and contributed to the high costs of the elections. Its strategic positioning in the Gulf of Aden, where Saudi Arabia is leading an offensive against Yemen, secured Somaliland massive port investment.
The USD$442 million deal signed with UAE company, DP World, in September 2017 came with additional commitments to development in Somaliland, as well as plans for a military base at Somaliland's Berbera port.
The deal, however, is also highly politicised and dogged by corruption allegations. It closely aligns Somaliland with the UAE in the unfolding Gulf crisis and disrupts other regional alliances with Djibouti and Ethiopia. It also places Somaliland at odds with Somalia which is maintaining a neutral stance in the conflict.
Challenges that lie ahead
Musa Bihi may be the leader best-placed to steer the country away from further fragmentation and political instability. But his ability to do so will depend, in part, on his regional tenacity and commitment to conciliatory politics at home.
During the electoral process, and laudably so, the opposition galvanised momentum around righting Somaliland's political imbalances. These include widespread corruption and nepotism that is aided by weak institutions and a political environment that stifles criticism.
Tackling these issues head on will require appointing a new cabinet void of corrupt state officials, but also a strong commitment to reforming Somaliland's outdated political system. This means prepping legislation for holding parliamentary elections in 2019, but also opening up the political space and pursuing genuine power-sharing.

Cementing regional trade links and pursuing talks with Somalia will no doubt keep the new president busy. But these elections have revealed the desperate need to look inward, heal the nation and foster national cohesion.
Claire Elder, Doctoral candidate in politics, University of Oxford
This article was originally published on The Conversation. Read the original article.